State-of-the-art Pearl Of Africa Hotel in Kampala, Uganda has introduced a new 'Quarantine Package' that will see guests part with a friendly $99 and enjoy full package at the posh facility.
According to the hotel, the fee will come with breakfast, lunch and dinner.
Frequent disinfection has been employed at the hotel to make sure it is safe for guests who chose to stay there.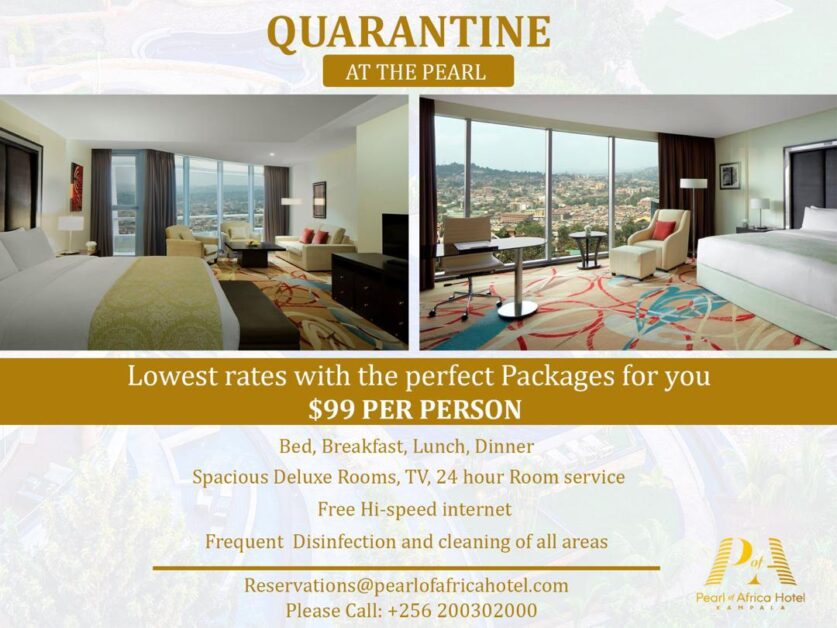 Pearl Of Africa Hotel is home to world class facilities including; a fitness center, sauna, garden, a terrace and bar. This hotel has air-conditioned units with a private bathroom. Guests can enjoy meals at an onsite restaurant.
All units are equipped with a flat-screen TV with satellite channels, a coffee machine, private bathroom, free toiletries and a desk. Certain rooms offer garden views.
Chairman Hamid is one of the most successful businessmen in Africa. His Aya Group is one of Uganda's largest business conglomerates with interests in mining, biscuit manufacturing, milling and logistics. The company is currently working on building a $4 billion industrial park in Uganda.
The hotel hosted last year's National Prayer Breakfast in October on the eve of Uganda's independence celebrations.
The hotel has a wellness centre that features a spa, gym and sports facilities like a basketball court, squash room and tennis courts, all world class.
It also has classy rooms for business and boardroom meetings that have become popular of recent.