Police's Directorate of Criminal Investigation and Crime Intelligence (CID) has summoned five journalists attached to various online publications over 'defamation and personation' charges, Business Focus has established.
According to the summons, Thespy Uganda's Andrew Irumba, Spy Reports' Raymond Wamala and Bob Atwine, John Njoroge of The CEO Magazine and Richard Wanambwa of Eagle Online are required to appear before the Department of Electronic Counter Measures (Cyber-crime Desk) of the Kibuli based CID on Friday on Friday 8th February 2019 for interview and statement recording vide CID HQT.GEF 1222/2018.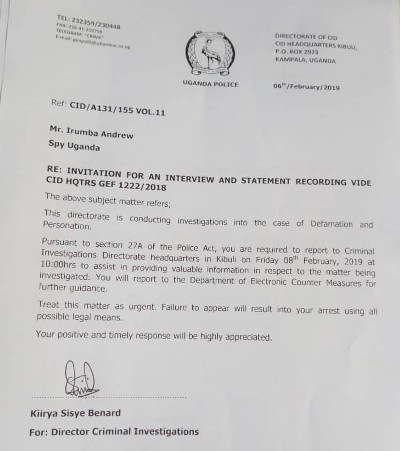 The stories resulting into their summoning are not stated so are the complainants.
However, sources say it a continuation of last year's General enquiry file opened by former Executive Director- Supervision at BoU, Justine Bagyenda against the online journalists who have been reporting about the BoU saga involving her and other top Bank officials.
It is reported that BoU Governor Prof. Emmanuel Tumusiime-Mutebile asked the President to rein in on the online journalists for reportedly 'hurting the economy' by reporting on the on-going saga at BoU on grounds that such stories are read worldwide..
Commenting on the development, Andrew Irumba, The Spy Uganda CEO, who also doubles as the President of Independent Online Journalists Association-Uganda (INDOJA-U said he would honour the summons but wondered why police wasn't interested in the real people hurting the economy by stealing in billions but rather hunt down the messenger.
This is not the first time Police is summoning online journalist over BoU stories. Last year on October 20th 2018 summoned the same journalists for writing stories about Bagyenda.