Kwese TV and Red Pepper have joined Next Media (NBS TV, Next Radio and Sanyuka TV) and Uganda Broadcasting Corporation as the official publicity partners of Corporate Games Uganda.
The two media houses were unveiled on Sunday during the third outing of this year's Corporate Games.
"This gives the participating companies more publicity avenues on different media platforms and of course the media partners will support in promoting a healthy lifestyle among Corporates," said Ian Rumanyika, the Corporate Games Uganda chairman.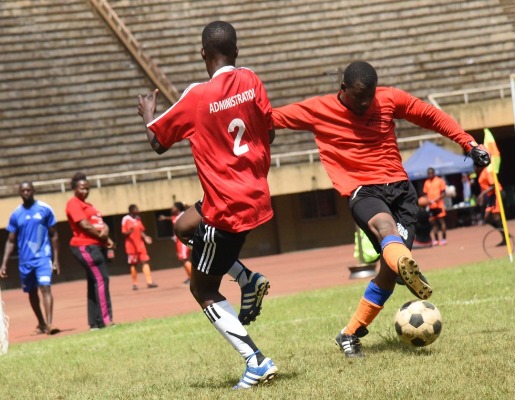 Sunday also saw Cavendish University, Oryx and Orion Transformers become members of the games, participating in their first outing.
"More teams are believing in our commitment to zero tolerance to mercenaries and creating a platform for professionals," Rumanyika said.
This took the tally of companies currently embracing the games to an impressive 25.
As the norm, the games which are played every first Sunday of the month, started with the routine aerobics so that the teams warm up.
Football, wood ball and Netball took center stage with all 25 companies in action
The first games of the day saw Mengo hospital draw 1-1 with Uganda Bati, EFC also drew 2-2 with Next Media as FIDUGA beat Ministry of Science 1-0.
As a commitment to ensure high levels of discipline, Darling Uganda has been suspended for the 2019 games for ill behaviour that was exhibited in the third outing.
In his closing remarks, the chairman for the Corporate Games Uganda stressed, "We have seen number of fans grow bigger since we started, thanks to our media partners, we want to fill Namboole. We want to see the stadium get filled up supporting the different corporate companies. More people are turning up for the free morning and evening aerobic sessions, we are happy about the turn up as we inspire Ugandans especially Corporates through sports."
The Corporate Games outings happen every 1st Sunday of the Month. The next outing will happen 5th May 2019 at Mandela National Stadium CG host partners.
Below are the participating members of the Corporate Games;
Mengo hospital, Uganda Baati, Entrepreneur Finance Center, Next Media, Sanyuka media, Ministry of Science & Technology, Kwese TV, UBC TV, Uganda National Council for Science & Technology, Ministry of Finance, Fiduga, UNBS, Orion Transformers, Directorate of Industrial Training, Uganda Industrial Research Institute, Royal Van Zanten, UNMA, Red Pepper, UMC Victoria Hospital, Mandela National Stadium, Oryx, Cavendish University and Parliamentary Press.