Ugandan start up hub – The Innovation Village – secured two awards at the 2019 Top 100 Mid-sized Companies Award Gala held at Hotel Africana on Friday 29th November, 2019.
The double awards – one for the fastest growing company and another for the most innovative company – were handed over to The Innovation Village Team at the awards gala following the Top 100 Mid-sized Companies Index Survey whose results were released last week.
In what was in reference to the struggles that entrepreneurs face, CK Japheth, Founder and CEO of The Innovation Village, dedicated the awards to all those out there building businesses out of big dreams:
"I dedicate this to every entrepreneur with a dream too big it makes you look crazy, hustling with no evidence of results and not fazed by rejection and that entrepreneur who is discouraged not because people do not understand you but because you don't understand yourself", he said.
Drawing on his own lessons of being an entrepreneur, CK Japheth went on to encourage other entrepreneurs who are on the tough journey to realizing their dreams by dedicating the next decade to the entrepreneurs:
"2020-2030 is the decade of the entrepreneur, the defining decade dedicated to young hungry entrepreneurs who have not had a fighting chance. We are armed, locked & ready to unlock the massive untapped potential".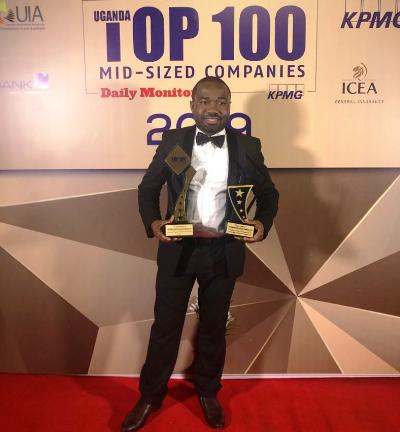 In a message posted on his LinkedIn page, he went to thank his team who have dedicated their lives to enabling and unlocking potential and various partners – including Mastercard Foundation – for believing in them and supporting their work to make it possible for thousands of entrepreneurs to achieve their dreams.
He ended by stating the need for a more formalized approach to supporting entrepreneurship and innovation which can help corporate businesses and Government organisations grow.
"We need to institutionalise Uganda's innovation industry by building strong, credible institutions that work together with entrepreneurs to drive innovation and as a result increase business growth".
The awards were organized by Monitor Publications Limited, KPMG, the Daily Monitor, DFCU Bank, the Uganda Investment Authority and the Ministry of Science Technology and Innovations among other partners.