By Amon Baita
Kenya Airways has come under fire after three family members lost their valuable items on flight KQ 416 on 5th February 2019. This has been worsened by the airline's reluctance to sort out the issue.
Florence Nyiramugisha, her son and youngest sister lost the items worth over US$2, 000 (over Shs7m) while traveling from Johannesburg to Entebbe transiting through Nairobi.
The trio was occupying Seat Numbers 31A, 31C and 31 D.
Nyiramugisha has since written to Kenya Airways management and the concerned authorities, but she is yet to get justice.
"While at Johannesburg we made several purchases like we always do while travelling in other parts of the world, from Duty free shops," Nyiramugisha says, adding: "Between the 3 of us, we had only one hand luggage and all our carry on- items both new and old were in that suitcase (Silver-Calvin Klein) ."
She reveals that she bought an iphone X and four perfumes and other items while my sister bought three perfumes and other items.
"Those Purchases plus my personal Ipad2 were put in that bag," she says, adding: "Our first flight from Johannesburg to Kenya KQ 761 Airbus was fine, no issues."
At Nairobi, she says, they transited through Gate number 21 and boarded a smaller Aircraft to Entebbe – flight KQ416 and that is where challenges began.
"We were among the last people to board and as soon as we reached our seats, there was no overhead space left for our hand luggage. Despite the fact that we had three seats, none of us had any space for one bag in the overhead lockers. My son sat and got strapped in; we also sat down but kept the bag in the corridor of the Aircraft between us," she narrates.
Nyiramugisha says the Cabin Crew lady came and told them that the bag should not be there and that it was going to be taken downstairs into storage.
"I told her there's no way that bag is going down because it has our valuables, and I asked her to try and squeeze the other bags together and create for us space. She said there was no space as aircraft was full but I insisted that she should find space because we had three seats and are entitled to some space in the overhead lockers for our carry- on bags and since we had one, it shouldn't be a problem. I told her the bag is staying with me stressing that it's not lockable and has a lot of valuable items," she says.
At that moment she called the Male Cabin Crew (Name Kassim) and together they spoke in Swahilli and Kassim told them that the bag is going down. "Despite our pleas to get space and keep the bag inside, the Lady Cabin Crew member at that point put a plastic seal on a bag and tagged it with Tag number 3 706 KQ 425678 and Kassim lifted off the bag and took it outside," she says.
She adds that when they landed at Entebbe, she cleared immigration quickly.
"I was the first one in line; I was running to beat the bags at the carrousel. And my carry-on bag being the last to have been taken down I expected it to come among the first bags," Nyiramugisha reveals.
She adds that her silver bag came among the last ones and that 'video footage is there to prove this.'
"As soon as I picked it, I noticed it was light, I put it down right there near the carousel and opened it. My heart fell out of my chest! It was empty apart from a few empty polythene bags, 1 blue new hand bag also lock torn and contents removed and another green new hand bag. Everything else was gone," she explains.
"I started screaming and nearby the carousel, there was a DAS lady supervisor who I called and shouted that I needed help as the contents of my bag had been stolen. She pointed at an office behind me and told me to go there," she adds.
She claims that she experienced the worst service in this office.
"Everyone kept pointing me to the next desk and eventually they told me to wait for security," she says.
After sometime, a one Ambrose came and said he was DAS security and asked her to tell him what her problem was.
"He took my statement and when I asked him to view the plane footage as plane had just landed, he said he will but not now and sent me to another desk inside the same office to a lady called Fatinah who asked me to recount the story as she slowly and agonizingly entered something into the computer," she painfully explains.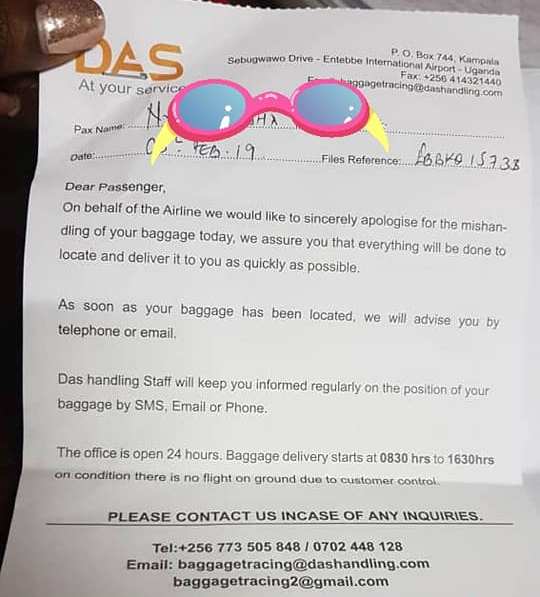 For people that landed at 7.29pm, she says, by 10 pm, they were still inside DAS office telling the story over and over to 'so many bored looking people.'
"Eventually AG Fatinah-that's how she signed the form she gave me- told me to go upstairs to KQ Office level 2," she says, adding that she found office was long closed.
"By luck a random airport staff passed by and he gave me the KQ airport office contact 0772792…. I called the number while standing at their door, and the gentleman who picked, as soon as I told him my bag had been opened and all valuables taken, he said "go to Kampala", I said I do what? He repeated that I take my issue to Kampala KQ Office. This gentleman did not even explain to me that claims are handled at Kampala Office, he just told me to go to Kampala at 11.30 pm," she says.
At this point, she decided to take the matter to Entebbe police.
"We felt we were not properly assisted and even the information they were giving us was not enough to convince a passenger who had just lost millions of money, that there's a possible solution," she says.
"We drove to the Airport Police Station and a Police personnel (Annet Acheng) took our statement, Kept the suitcase as exhibit and her boss asked her to escort us back to the airport and into the DAS Office and she reviews the footage," she says.
However, when they reached the DAS Office, Ambrose played one camera, one angle and one Aircraft door and said that is all he had the rest of the footage was to be got from somewhere else.
"He said he didn't have it. Our bag did not show from the few that were displayed in that footage," she says, adding that they later went home to catch some sleep as they were extremely tired.
"I woke up early and by around 9:00am, on 6th, I was at KQ Kampala office. A lady called Bridgette from the claims office, listened to my statement, asked for the form from DAS and tried to call their Manager and told me there was no answer, she called some other place and said they weren't picking calls," she says. However, this day also passed without success.
Yesterday 7th Feb, around 12pm, Bridgette from KQ Office Kampala called her to ask if there was anything found from surveillance.
"I asked her what have you done as KQ, she said they are still following up but I should help her with the tag number of that bag. I did," she said.
She insists that KQ must get her items no matter what.
"I am not about to let this go because my family and I lost a lot of stuff in one go. The people that I had expected to look after me and my valuables did not despite the fact that I had purchased three return tickets. Even after the incident it is us running around chasing for answers instead of the service provider," she says, adding: "The moral of the story is that the whole incident is shocking, and unacceptable from Kenyan Airways and I definitely look forward for a solution and answers from both Kenya Airways and DAS."
Efforts to get a comment from KQ were futile by the time we posted this story as they hadn't responded to our emails.