Non-Performing Loans (NPLs) is one of the key parameters for the banking industry. It determines the health of the industry.
According to Bank of Uganda (BoU), the regulator of commercial banks, the NPL ratio is deemed healthy for the banking industry when it is below 5%.
In this analysis, Business Focus exclusively unveils banks with biggest NPLs in percentage terms based on financial statements for the year ended 31st December 2019 released between March and May 2020. Citi bank and Bank of India reported nil NPLs. This analysis therefore captures 23 commercial banks.
Stanbic and Absa bank have the highest NPLs figures at Shs120.2bn and Shs109.9bn respectively. However, when it comes to NPL ratio (NPLs compared to the bank's loan book), they are not doing badly.
When it comes to NPL ratio, Orient bank has the highest number of loans in NPLs. This is after its NPLs increased to Shs60bn in 2019, up from 14.8bn in 2018. The bank's total loan book was recorded at Shs305.5bn in December 2019.
Its NPL ratio is the biggest in the market at 19.6%. This possibly explains why the bank made a loss of Shs1.05bn in 2019 from Shs5.55bn net profit recorded in 2018.
ALSO READ:
40 Women In Top Banking Positions Named
Uganda's Banking Industry Assets Hit Shs32.8 Trillion: But Who Controls What?
2019 RESULTS OUT: Most Profitable, Loss-Making Banks Revealed
This means the new Managing Director of Orient bank, Kumaran Pather has an uphill task of reducing NPLs and returning the bank to profitability.
Orient is followed by NC bank whose NPL ratio stands at 13% after its NPLs increased to Shs18.19bn in 2019, up from Shs17.4bn recorded a year earlier. NC bank that is headed by Sam Ntulume as Managing Director posted Shs3.073bn profit in 2019, up from Shs4bn loss recorded in 2018.
KCB is also finding it hard to recover money lent out. Its NPL ratio stands at 9.46% as of December 2019. Its NPLs increased to Shs22bn in 2019 from Shs8.27bn in 2018.
This explains why the bank posted a whopping loss of Shs13.56bn in 2019, from a profit of Shs9.64bn in 2018. Edgar Byamah, the KCB Managing Director has an arduous task of turning around the bank into a profitable entity sustainably.
ABC Capital Bank comes 4th with 9.14% of its loans advanced to customers in NPLs. The bank's NPLs increased to Shs1.7bn from 614.9m in 2018. Headed by Jesse Timbwa as CEO, ABC posted Shs1.1bn loss from Shs295m profit in 2018.
With 8.9% of its loans in NPLs, Tropical Bank comes 5th in as far as biggest banks with NPLs is concerned. However, in absolute terms, its NPLs reduced to Shs16.1bn in 2019 from 21.9bn in 2018.
Absa bank Uganda has 8.26% of its loans in NPLs, making it the 6th under this category. Its NPLs increased to Shs109.9bn in 2019 from Shs91.3bn in 2018.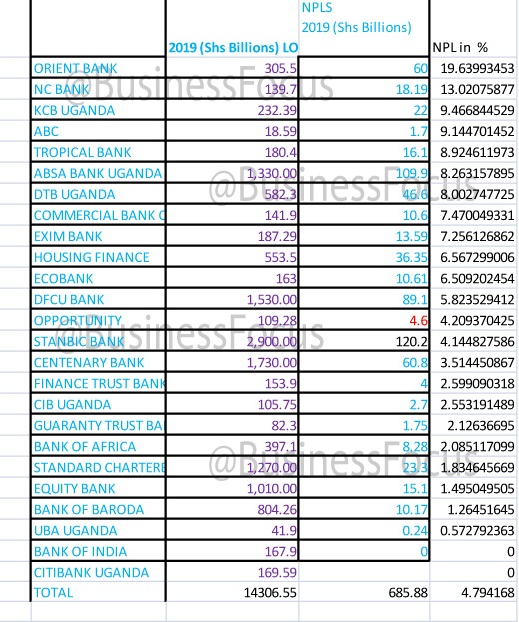 Diamond Trust Bank comes 7th under this category with 8% of its loans in NPLs. This is after its NPLs increased to Shs46.6bn in 2019, up from 27bn recorded a year earlier.
In 8th is Commercial Bank of Africa with 7.4% of its loans in NPLs. However, its NPLs in absolute figures reduced to Shs10.6bn in 2019 from 20.4bn recorded in 2018.
In 9th and 10th position are Exim Bank and Housing Finance Bank with 7.2% and 6.56% of their loans in NPLs respectively.
The NPL ratio for other banks is as follow; Ecobank (6.50%), dfcu (5.8%), Opportunity (4.2%), Centenary (3.5%), Finance Trust Bank (2.59%), Cairo (2.55%), Guaranty Trust Bank (2.12%), Bank of Africa (2.08%), Standard Chartered (1.83%), Equity Bank (1.49%), Bank of Baroda (1.26%) and UBA (0.57%).
The good news is that industry NPL ratio remains below 5% at 4.79%.
However, this is likely to shoot up considering the COVID-19 impact on businesses/borrowers.
More details in the table.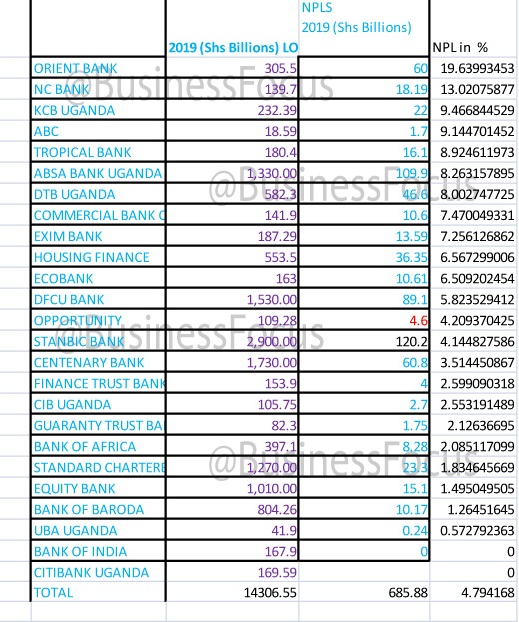 Note: This story has been edited to include Stanbic Bank.
For tips or feedback on this story, reach out to us via [email protected]/0775170346, follow me @TaddewoS @BusinessFocusug for further unmatched analysis of Uganda's banking sector and the economy at large.