dfcu Bank has appointed two new members to join its Women in Business Advisory Council (WBAC) effective October 1st 2018.
The new Council members are Grace Makoko a respected female banker in East Africa and Belinda Namutebi a leading communications expert in Uganda.
As one of the few East African bankers with vast experience in both Corporate Banking and Financial Markets, Grace Makoko who is also a celebrated authority in the area of personal finance and wealth creation brings to the Women's Council over twenty (20) years of experience in the banking industry from different markets in the region.
Similarly, Belinda Namutebi has fourteen (14) years' experience in Corporate and Advocacy communication.
An innovator who's passionate about the power of brands to cause meaningful change; Belinda has a knack for understanding the needs of target audiences and developing innovative campaigns to address challenges and drive change.
Commenting on the new members to the Women in Business Advisory Council, Chief Executive Officer, Juma Kisaame said; "There is no doubt these distinguished women are a great valued addition to the council as they each bring with them unique qualifications, personalities and experiences that will contribute to the advancement of the Women in Business (WiB) program."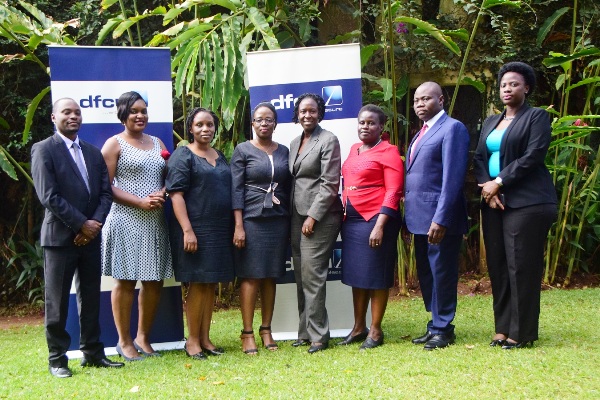 The Bank also reappointed Dr. Gudula Naiga Basaza, Rosemary Mutyabule and Patricia Karugaba Kyazze as members to the Advisory Council.
In 2012, dfcu bank formed the Women in Business Advisory Council (WBAC) whose composition constitutes five (5) distinguished women, tasked with the responsibility of supporting the Bank's board and management in effectively implementing its women advancement agenda.
As part of dfcu's strategic plan to empower women entrepreneurs to achieve their full potential, the WiB program was launched in 2007 to achieve this objective.
The local women entrepreneurs have been very receptive of the program which has seen over 50,000 women enrolled; more than 35,000 benefit from capacity building sessions and over 3,000 access credit facilities since its inception.
According to the WBAC, Chairperson, Dr. Gudula Basaza strategic partners likes Makerere University Business School (MUBS), Uganda Law Society (ULS) and Institute of Certified Public Accounts (ICPAU) have been instrumental in the success of the program.
"In our new term of as the Advisory Council, we will be exploring how to leverage these partnerships more and forge new ones to build on the success of the program," she added.