Regional supermarket giant, Nakumatt will soon become history in Uganda, a development that will leave many jobless and adversely affect the economy at large.
An inside source, who preferred anonymity, confirmed to Business Focus that Nakumatt is in advanced stages of ending operations in Uganda due to unprecedented debts.
"The supermarket (Nakumatt) is winding up business in Uganda; it has already closed a number of branches due to debts," the source said, adding: "They wanted government bailout in form of a tax waiver until they stabilize, but it seems it has failed to workout. The parent company in Kenya has also failed to get a strategic investor."
Efforts to get a comment on the above claims from Bernard Mutua, the Nakumatt Uganda Country Manager both on mail and his known phone number were futile by the time this story was published.
Business Focus recently reported that the Kenyan based Supermarket was seeking a bailout from the Government of Uganda to survive the current financial storm.
A source revealed that if government doesn't intervene by giving the Supermarket a tax waiver until it stabilizes, Nakumatt will close its operations in Uganda just like Uchumi quit Uganda in 2015.
On September 5, 2017, Uganda Revenue Authority (URA) started the public auctions by selling perishable goods owned by Nakumatt in order to recover $71,000 (about Shs255.5 million) in tax arrears.
It is worth noting that URA last month took over Nakumatt's operations in Uganda to give itself first priority on all income, as several creditors in Kampala and Kenya bay for the retailer's blood.
The move saw it take over three Nakumatt branches and the retailer's warehouse, which also doubles up as its Uganda headquarters.
"The clearance sale has started with Bugolobi branch today. After, we move to Kamwokya as we continue talks with the client," URA said on official Twitter page last Tuesday.
The URA on Tuesday said it will later advertise auction dates for Nakumatt's non-perishable goods. The taxman is expected to wind up with auctions at the Oasis branch, also in Kampala.
"The (Nakumatt) management has been requested to make payment proposals for the outstanding balance to no avail. To mitigate the loss, we are proceeding to sell the perishable goods this afternoon. We shall advertise and sell the other items thereafter," a URA source said Tuesday.
Reports indicate that Nakumatt's gross debt more than tripled to Shs525 billion in February 2015 from Shs147 billion in 2011, piling pressure on operations and resulting in long payment delays to suppliers.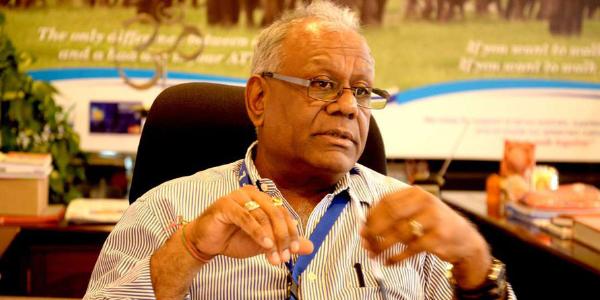 According to the Standard, Nakumatt's total debt is KSh30 billion (over Ush1 trillion).
The new development comes barely two months since the retail chain shut down three stores – at Acacia Mall – Kololo, Village Mall – Bugolobi and Victoria Mall – Entebbe.
Earlier the retail chain had closed Katwe and Mbarara branches over debts.
Nakumatt opened its first store in Uganda in June 2009.
It was located on Yusuf Lule Road on Kololo Hill, in central Kampala. In November 2010, Nakumatt expanded its footprint in Kampala by acquiring Payless Supermarket, a Ugandan supermarket chain with two stores in the Kampala suburbs of Bugoloobi and Bukoto, bringing the number of stores in Uganda to three.
The initial investment in the store in Kololo was approximately US$3 million. The two Payless Supermarket stores cost an estimated US$650,000.
Further, Nakumatt continued with its ambitious expansion, a thing that has backfired given the stiff competition.
Troubled
Suppliers in Uganda have also filed court cases to recover unpaid invoices and rent arrears. The retailer is also facing two insolvency suits in Nairobi.
The two insolvency suits were filed by tissue manufacturer Africa Cotton Industries and tea processor Gold Crown Beverages.
NIC Bank had also commenced recovery processes against Nakumatt, after instructing auctioneers to sell two generators located at its City Square branch near City Hall. The retailer however denied auctioneers entry into the supermarket.
In July, Business Focus reported how Nakumatt Uganda workers had gone four months without pay.
"The situation is terribly bad. Many employees have fired themselves after realizing that the situation may take long to be fixed," the source said.
On October 27, 2016 Nakumatt Holdings, with presence in Kenya, Uganda, Rwanda, and Tanzania admitted it was facing cash flow problems.
In a statement, the company revealed that it was in talks with "local and international financiers" for a capital injection. The retailer said its problems arose from "unforeseen business challenges," specifically a downturn in economic activity, higher operating costs, and external factors like managing risks associated with security threats in Kenya.
The retailer is currently working on a $75 million deal to sell a 25 per cent stake to a strategic investor to retire its heavy debt burden.
Founded in 1987, Nakumatt is a wholly Kenyan, privately held company, owned by the Atul Shah family.
Atul Shah is the Managing Director and Chief Executive Officer of the Nakumatt Holdings Limited, the parent company of Nakumatt Supermarkets.
Note: Leave a comment on this story and share it if you find it worth.