The Kampala Metropolitan Traffic Police Commander, Norman Musinga (pictured) has won the protracted legal battle with his ex wife, Business Focus reports.
Makindye Grade 1 magistrate Allan Gakyaro made a final order dissolving Musinga's marriage to Esther Kyinkuhaire.
Court also granted him custody of his three children.
While delivering his ruling, the Chief Magistrate stated "The decree absolute entered on the 28th January, 2019 is made Absolute."
The Chief Magistrate further stated that the marriage solemnized on 17th July 2010 between Norman Musinga and Ester Kyinkuhaire be and is hereby dissolved.
The ruling further added that the custody of Atuhaire Given (Minor), Aine Gavin (Minor) and Birungi Gabriella (Minor) is hereby granted to Petitioner (Norman Musinga).
However, Court said that the respondent (Esther Kyinkuhaire), the mother of the children was given visitation rights during school term holidays upon giving notice to the Petitioner (Musinga), the father of the children at least one day before. The Magistrate however did not award costs to the petitioner.
"No order as to costs," he ruled.
SSP Norman Musinga and Esther Kyinkuhaire got married in 2010 after two years when Musinga had been passed out as police Officer from Police Training School in Kabalye Masindi District. The couple wedded at Namirembe Cathedral and had their reception at Hotel Africana.
Sources close to Musinga's family say that around 2015, the pair developed some family disagreements which prompted Musinga to file for divorce.
Musinga through his lawyers of  Kampala Associate Advocates filed for divorce at family Division court based in Makindye under file number 211 of 2019 but it was arising out of Divorce cause no 24 of 2016.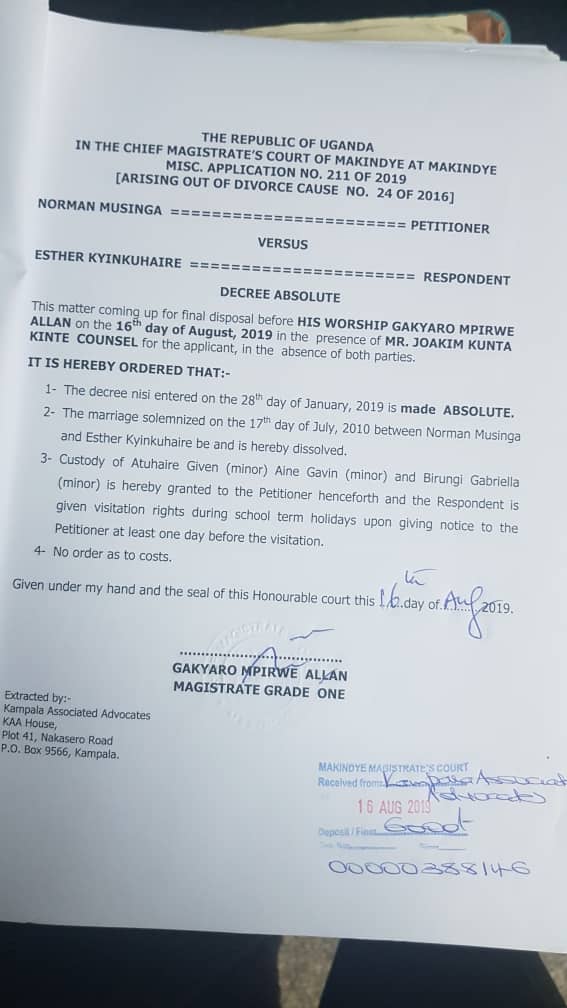 Insiders say when court called Kyinkuhaire to file her defense, she dodged court proceedings and instead rushed to high court to block the matter. However, High Court referred her back to lower court.
Sources at Makindye Family Court revealed that Musinga and his wife started a serious battle around January 2019 and finally Musinga won the case.
"I have been carefully following Musinga's case here at court and this man was so patient, humble and he was telling the truth," says one of the court workers. She added that when you meet Musinga on the road he is always tough but in court, he was so humble. "The woman used to be arrogant whenever she came to court as if she knew she would win the case," says another court staff.
However, we have reliably been informed that despite Musinga winning the case, the woman still disturbs him by trying to steal children from school. "This woman has something wrong with her, she lost the case and never appealed but up to now she still disturbs Musinga," adds a close friend of Kyinkuhaire.
Her friends added that she once went to CPS and wanted to cause chaos and when officers threatened to arrest her, she ran to Dr. Stepehn Kasiima, the Head of Traffic but failed to get help and now she went to Minister Nakiwala Kiyingi and bounced.
The court order that was issued on 16th August 2019. Musinga has been on the receiving end of tough publicity after his ex wife gave a series of interviews to the media.
Her case, while obviously dramatic in the press, was unable to impress the Court.
By Amon Baita