Crane Bank Statutory Manager, Edward Katimbo Mugwanya personally oversaw the handover of assets and liabilities of Crane Bank to dfcu bank, the Committee of Commissions, Statutory Authorities and State Enterprises ( (COSASE) that is investigating into the controversial closure of seven banks by the Central Bank has learnt.
The Central Bank took over Crane Bank on 20th October 2016 citing undercapitalisation and later sold Crane Bank to DFCU in January 2017. Consequently, BoU appointed Katimbo the Statutory Manager of Crane Bank (in receivership).
While appearing before COSASE in 2018, Katimbo denied ever handing over Crane Bank legally, saying he was shocked to see photos on WhatsApp of trucks ferrying documents to dfcu as he was on his farm.
However, in a dramatic turn, dfcu bank has rejected Katimbo's statement, saying that the Statutory Manager lied because he personally handed over Crane Bank to dfcu on 25th January 2017.
Appearing before COSASE today, William Sekabembe, the Executive Director at dfcu bank told the Committee that Crane Bank properties were acquired on 25th January 2017 and transferred in February 2017.
He said this was followed by an evaluation of the assets by the independent Valuers between April-May 2017 yet the Government Chief Valuer endorsed these valuation reports in February 2017.
It is at this time that COSASE outgoing Chairman Abdu Katuntu asked: 'Am I right to say that all these valautions were done after you had acquired the property? How can you acquire the property that you haven't valued? You acquired these assets on 25thJnauary 2017, the first valuation you do is in May and April 2017 four months after acquiring the property."
However, DFCU defended their actions saying they first relied on valuation done during the due diligence that took into account the value of assets, backed by professional knowledge to come up with value, noting that the April to May 2017 was the formal valuation.
That is when Committee Vice Chairperson, Anita Among requested dfcu to furnish the Committee with Crane Bank's asset register so as to enable the Committee cross check with Government Valuer.
The Bank officials however asked the Committee to obtain a copy of Crane Bank's asset register from the Central Bank, arguing that the document was retained by the regulator.
This was rejected by Katuntu, noting that it is dfcu that bought Crane Bank and therefore took the asset register with it.
It is then that he tasked dfcu to clarify on how they took over Crane Bank formally arguing; "The Statutory Manager told the Committee that he was at his farm and you were busy ferrying documents. Who handed over to you this bank since the Statutory Manager said that he wasn't at the bank."
Sekabembe used the opportunity to clarify on the matter noting:"I personally had several meetings at the main branch with the Statutory Manager and we took minutes of those meeting."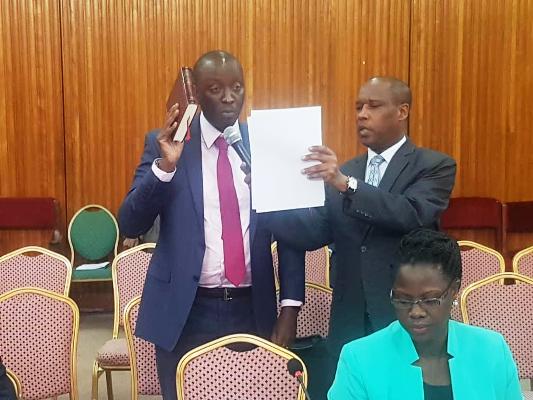 When asked if Mugwanya handed over Crane Bank with an inventory of the assets and liabilities, Sekabembe said; "We don't necessarily have reports."
This prompted the Committee to put Sekabembe on oath, and he maintained his earlier stand that Crane Bank takeover occurred with consent of Katimbo.