Kalyango is earning big from passion fruit farming
You can earn millions of shillings in passion fruit farming-only if you do the right thing. Passion fruit farming is one of the enterprises one can consider venturing into during this lockdown given its profitability.
Sharif Kalyango, who started with an acre of passion fruits in Nyendo, Masaka district, says the investment is worth it.
He grows the local purple Grandilla popular for its scent. This particular fruit is locally known as Kasese, Masaka or Kenyan variety.
Kalyango says the biggest requirement to start passion fruit growing is land. Once land is catered for, he says the other very important requirement is capital. Capital depends on how big the field is.
He explains that part of this capital goes into clearing the farm, procuring seedlings, fertilizers, labour and poles that support the fence-style trellis system (ekitandalo in Luganda).
According to Kalyango, passion fruit plants require fertile soils with plenty of mineral supply in order to achieve optimum growth and yields.
"A soil pH range of 6.0 to 6.5 is preferable," he says, adding that one can plant seedlings or propagated plantlets.
Planting
Kalyango has seven (7) trellises in an an acre. He says holes must be well fertilized. He adds that holes should be dug 2-3 months earlier. This gives room to kill the soil pests and other diseases. After, he says, it is advisable to mix the top soil with compost and then put it back.
To further boost plant growth, he adds other artificial fertilizers such as CAN and NPK. After, harvest your passion fruits 4-6 weeks after transfer to the main field.
Kalyango ties 3 to 4 plants together on trellis . The tied plants, he says after maturity, gives 150 fruits per stem, an equivalent of 600 fruits from the tied plants.
Kalyango says passion fruits can be inter-cropped with green paper, onion, carrots and other short term veggies.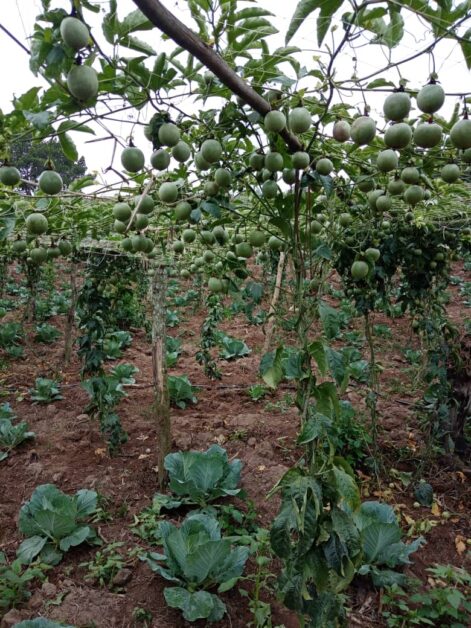 Harvest
Kalyango says if everything is correctly done, you should be able to start harvesting in 8-12 months.
"Pick fruit when they turn from green to purple, and when the calyx has dried up leaving a small stalk attached," he says.
Kalyango says harvest is not a one day thing as fruits mature differently. This explains why there is at least one harvest per week from the time of harvest and he says the harvest can go on for six or seven months while harvesting weekly or twice a week.
Kalyango says when all is done and all the required steps are followed, you will smile your way to the bank. He says in just one season, one can earn over Shs9 million in gross profit. He says passion fruits can be harvested for two seasons. This means one can earn a gross profit of about Shs18m. Kalyango says one can invest in an acre about Shs5m before the first harvest. This investment is based on the fact that one already has land.
Market
Kalyango says market for passion fruits is readily available. He sells his passion fruits in Kampala along Kafumbe-Mukasa road.
Challenges
Kalyango says the biggest challenge in passion fruit farming is fake seeds on the market.
"If the quality of seeds is bad, making money is not possible. But with good seeds, fertilizers, everything, you can a gross of over Shs8 million per season," he says.
By September, Kalyango says he plans to add another acre, making two.
Future plans
Kalyango's profits from passion fruit farming goes into procuring land. He says he plans to go into coffee farming. So far, the land he has bought can only accommodate 1, 500 coffee trees but his  plan is to plant about 3, 000 coffee trees. Kalyango's timeline to start coffee farming is June 2022.